Top 2015 Doctors – Dr. DiCaprio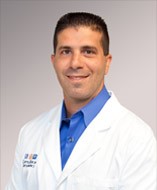 The Bone & Joint Center surgeon Dr. Matthew DiCaprio has been highlighted as one of the Capital Region's Top 2015 Doctors. He is a fellowship-trained musculoskeletal oncologist with a primary in orthopaedic oncology and the treatment of benign and malignant bone and soft tissue tumors. His other areas of specialty include joint reconstruction and replacement, sports medicine, and orthopaedic trauma.
Dr. DiCaprio was awarded the Patients' Choice Recognition Award, Yale Orthopaedic Graduation Disputation Award for Research, and has multiple publications in various fields of orthopaedic oncology, joint reconstructive surgery, and medical education. He is a summa cum laude graduate of Utica College and received his M.D. degree from the State University of New York Health Science Center as valedictorian. He completed his residency in orthopaedic surgery at Yale University School of Medicine and his fellowship in orthopaedic oncology at University of Florida.
We would like to congratulate Dr. Matthew DiCaprio for being chosen as one of the Capital Region's Top 2015 Doctors.
Mentioned In This Story