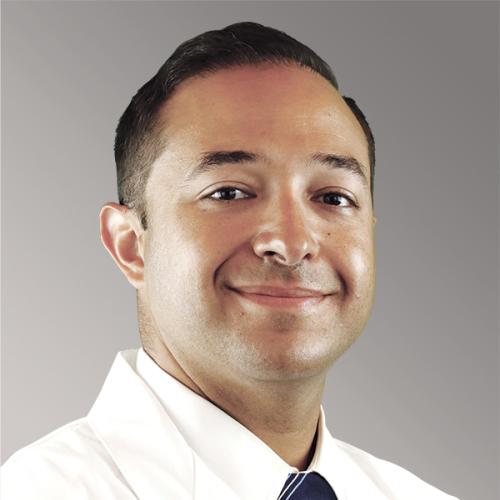 DIONISIO


ORTIZ, III, M.D.
Specialties
Hip
Knee
Total Joint Replacement & Revision
About

Dr. Dionisio Ortiz is a board-certified, fellowship-trained orthopaedic surgeon specializing in primary and complex hip and knee replacement surgery. His expertise includes the use of robotic- and computer-assisted hip and knee replacement, both anterior and posterior approach hip replacement, revision hip and knee replacement, and the treatment of young adult hip and knee disorders to include ligament and cartilage injuries of the knee and avascular necrosis of the hip. His focus is on restoring function to patients to allow them to resume the activities that they enjoy.

Dr. Ortiz graduated from the University of Connecticut with a Bachelor of Science degree in kinesiology in 2005, becoming a certified athletic trainer. While working at an outpatient physical therapy clinic for orthopaedic injuries in New York City, he completed a certificate in premedical sciences at Columbia University in 2007. He then went on to medical school and graduated cum laude from the SUNY Downstate College of Medicine in Brooklyn, New York. For medical school, he was a recipient of the U.S. Army Health Professions Scholarship Program and subsequently completed his residency at the San Antonio Military Medical Center, the only Level 1 trauma center in the Department of Defense.

After residency, Dr. Ortiz completed four years of service as a general orthopaedic surgeon in Fort Drum, New York. During that time, he served two overseas deployments, one with the 31st Combat Support Hospital to Kuwait in 2016 – 2017, and a second tour with the 909th Forward Surgical Team to Afghanistan in 2019. His military decorations include the Meritorious Service Medal, the Combat Action Badge, the Army Commendation Medal with Combat Device, and the Afghanistan Campaign Medal.

After completion of his military service, Dr. Ortiz completed a fellowship in adult hip and knee reconstruction at the NYU Langone Orthopedic Hospital/Insall Scott Kelly® Institute in New York City. There he had the privilege of working with leaders and innovators in the field of hip and knee replacement surgery and focusing on robotic/computer-assisted hip and knee replacement, minimally invasive hip and knee replacement, partial knee replacement, complex revision hip and knee replacement, and select hip and knee preservation procedures.

In his free time, Dr. Ortiz enjoys traveling the world with his family, coaching baseball, and playing golf.

Dr. Ortiz is available to see patients at our Albany and Latham offices.
Education & Training

Bachelor of Science in Biology: University of Connecticut, Storrs, CT
Doctor of Medicine: SUNY Downstate College, Brooklyn, NY
Orthopaedic Surgery Residency: San Antonio Military Medical Center, San Antonio, TX
Adult Reconstruction Fellowship: NYU Langone Orthopedic Hospital/Insall Scott Kelly® Institute, New York, NY
Board Certified: American Board of Orthopaedic Surgery
Professional Associations

Editorial Board Member, Arthroscopy: The Journal of Arthroscopic & Related Surgery
Editorial Board Member, The Journal Arthroplasty
Fellow, American Academy of Orthopaedic Surgeons
Fellow, American Association of Hip and Knee Surgeons
Member, American Academy of Orthopaedic Surgeons
Member, American Orthopaedic Association Emerging Leaders Program
Member, Society of Military Orthopaedic Surgeons
New York State Society of Orthopaedic Surgeons
Military Service

Afghanistan Campaign Medal
Army Commendation Medal with Combat Device
Combat Action Badge
Meritorious Service Medal
United States Army, Orthopaedic Surgeon
Hospital Affiliations

Albany Medical Center
Saratoga Hospital
St. Peter's Hospital
News

Proud to Welcome Robert E. O'Leary, M.D. & Dionisio Ortiz, III, M.D.

Our Newest Fellowship-Trained Adult Reconstruction Surgeons
Patient Reviews

"Dr. Ortiz offered me a complex complete knee replacement. He spent time explaining answers to all my questions. I first injured this knee in high school quite a while ago. I am a wife, a mother, and a friend. I knew it was time to take care of this. I really appreciated Dr. Ortiz bringing a plastic surgeon in to assure I received the best closure possible. There were so many scars from the previous injury and wear. My knee is doing well, thanks to my PT, Danielle (BMC), Dr. Ortiz, and the staff at The Bone and Joint Center. Thank you to everyone who was part of my care. ❤️"

"Dr. Ortiz was very courteous and gave me a range of options that would address my condition. I left the appointment reassured and looking forward to my surgery."